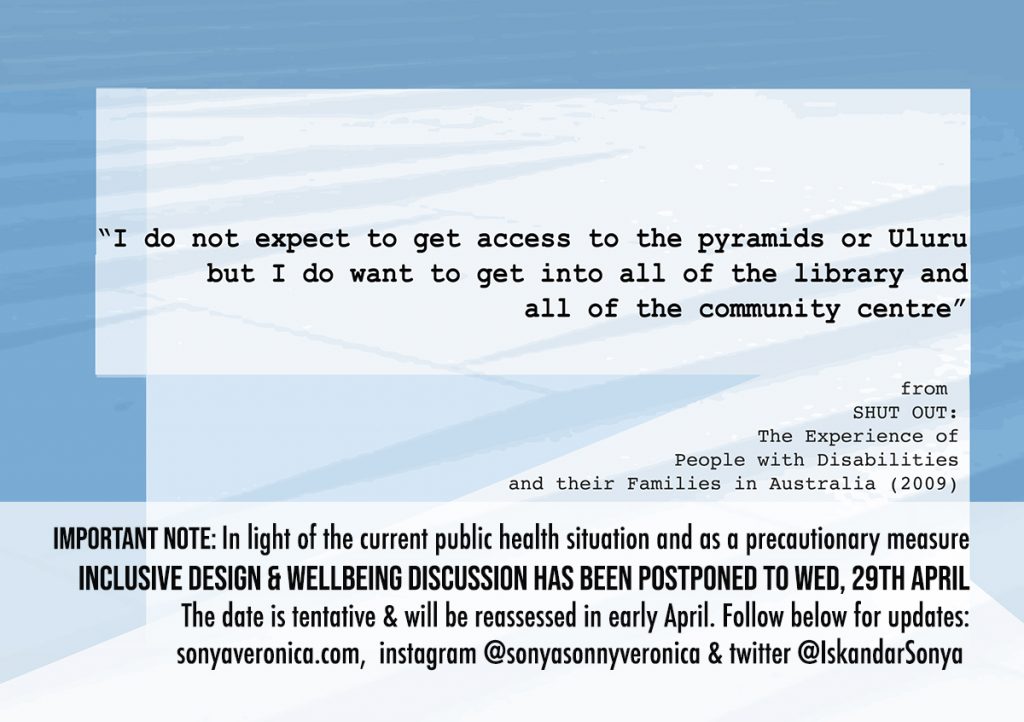 Thank you all firstly for those who have registered to attend this Inclusive Design and Wellbeing discussion and also for those who have signed up on the waiting list. It is very encouraging indeed.
Please be advised that in light to the current public health situation, as a precautionary measure, Meat Market is closing its door from 2 pm today till the end of March and this Inclusive Design and Wellbeing discussion has been postponed and moved to (tentatively) Wednesday, 29th April, same time and venue.
The date will be reassessed in early April; All attendees, including those in the waiting list, should have received emails notifying them of the postponement.
I recognized that there has been a great interest in attendance for this event. Come early April, aside from reviewing the date, I will also endeavour to review the venue within Meat Market and discuss with them to see if there is a possibility of moving to a slightly larger space to accommodate those who are in the waiting list.
I will post updates to my website and social media account (Instagram and Twitter). To follow, social media addresses are below:
https://www.instagram.com/sonyasonnyveronica/, https://twitter.com/SonyaVeronica
Please do not hesitate to send me an email either through my Swinburne email address (siskandar@swin.edu.au) or website email (sonya@sonyaveronica.com), or both.
Although this is not an ideal situation, this is one of the ways to "flatten the epidemic curve".
In the meantime, please do take care and keep safe.
I look forward to the day till we all can finally meet.

Au revoir,
Sonya