Current & Upcoming Gigs
2021 The Clocktower Centre Café, Recast 2021, Trio with Mark Fitzgibbon (piano), Howard Cairns (double bass) – Sunday, 21st November at 4.30 pm (new date from lockdown postponement in May and July) – part of The Clocktower Reopening Celebration's free performances.
Snippets
more snippets can be listened through my soundcloud
Music| Jazz Française
I have been actively performing since 2009, in Melbourne, as well as few performances overseas, in Montreal and Paris.
I have been very fortunate to have worked with wonderful jazz musicians, in Australia, Montreal and Paris. Currently, I am playing as a duo with Alistair McLean and at times as a trio with Tom Lee on double bass. Previous musicians I have collaborated with are Mark Fitzgibbon (piano), Bob Sedergreen (piano), Geoff Hughes (guitar), James Sherlock (guitar), Hugh Stuckey (guitar), Howard Cairns (double bass), Dominique Fillon (piano, Paris- France), Guillaume Martineau (piano, Montreal-Canada), Rafael Paseiro (bass, Paris-France), Jerson Ramos (percussion, Paris-France).
My repertoires are a mixture of jazz, bossanova and chanson Française.
I am influenced by Bill Evans, Edith Piaf, Jonathan Zwartz and Antonin Jobim.
Always open to collaboration and performance engagement opportunities.
Link to past gigs: https://www.reverbnation.com/sonyaveronica/shows
Selected Past Performance: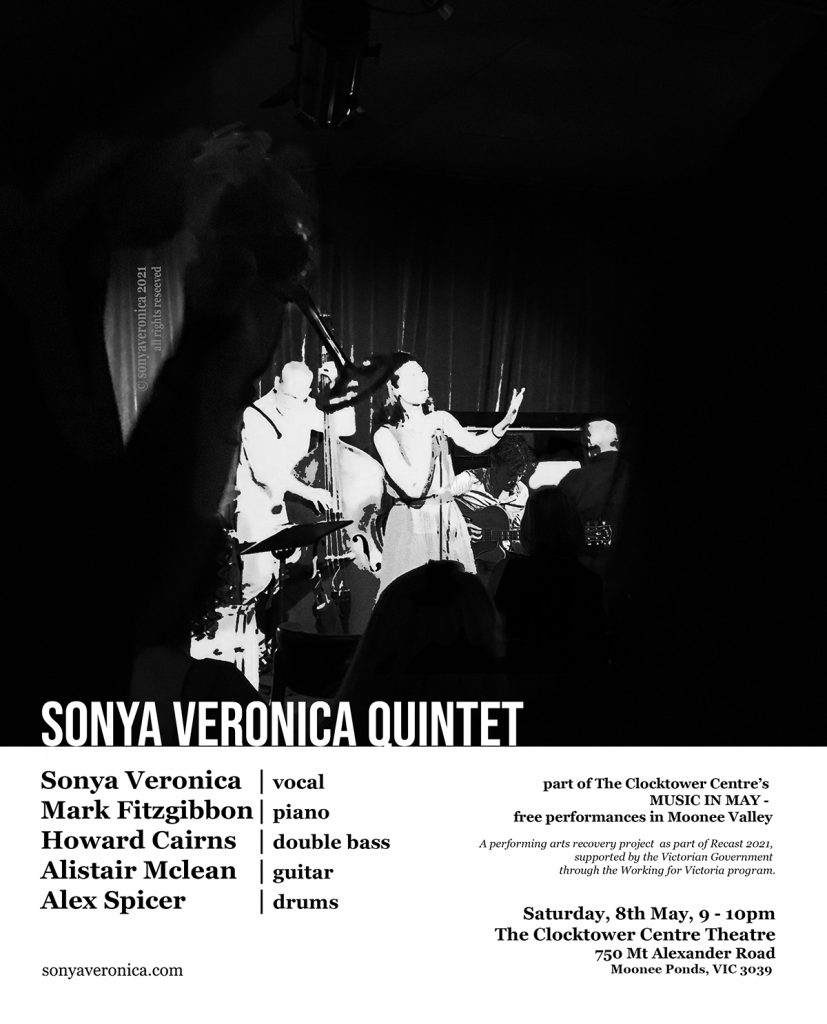 2021 (live-streamed) Live from the Clocktower, Duo with Alistair Mclean (guitar), Sunday, 17th November at 7 pm. Information on the link to live stream: https://clocktowercentre.com.au/live-from-the-clocktower/
2021 The Clocktower Centre Theatre, Recast 2021, Quintet with Alistair Mclean (guitar), Mark Fitzgibbon (piano), Howard Cairns (double bass), Alex Spicer (drums) – Saturday, 8th May, 9 pm.
2021 The Clocktower Centre, live-streamed Out Loud, with Alistair Mclean (guitar), Saturday, 13th March, 1.30 pm.
2020 Lido Jazz Room with Mark Fitzgibbon (piano), Howard Cairns (double bass) and Alex Spicer (drums) – Friday, 20th March, 8-10pm (our last gig before the pandemic restriction took place).
2020 Lido Jazz Room with Mark Fitzgibbon (piano), Howard Cairns (double bass) and Alex Spicer (drums) – Friday, 31st Jan, 8-10pm.
2019 Lido Jazz Room with Alistair Mclean (guitar), Tom Lee (double bass) and Alex Spicer (drums) – Debut – 1st Nov
2012 to 2019 – Lui Bar (Vue Du Monde) residency – Duo
2018 Swiss Festival at L'Alliance Française De Melbourne – Duo
2015 The Campari Bar, Melbourne – Quintet, 18th December
2014 La Generale, Paris – Improvisation Gig Session with Los Pistoleros Del Infinito, 20th August
2014 Paris Cat Jazz Club, Melbourne – Trio – Bill & I project (Bill Evans repertoire & compositions), 7th May
2013 Paris Cat Jazz Club, Melbourne – Guest vocalist – Bob Sedergreen's Triple Treat Concert, 7th December
2013 CIBL101.5FM, Montreal, Canada – La Schubertiade de Temps Moderne, with Guillaume Martineau (piano), 27th October
2011 L'Alliance Française De Melbourne, St Kilda – guest vocalist – French Jazz Night by ISFAR (Institute For The Study of French Australian Relationship Inc), 14th Nov
2011 L'Alliance Française De Melbourne, St Kilda – Jeudi Jazzy – Quartet, 11 August
2011 Bennett's Lane Jazz Club, Melbourne – guest vocalist, Dominique Fillon (from Paris, France) Quartet, 17th April